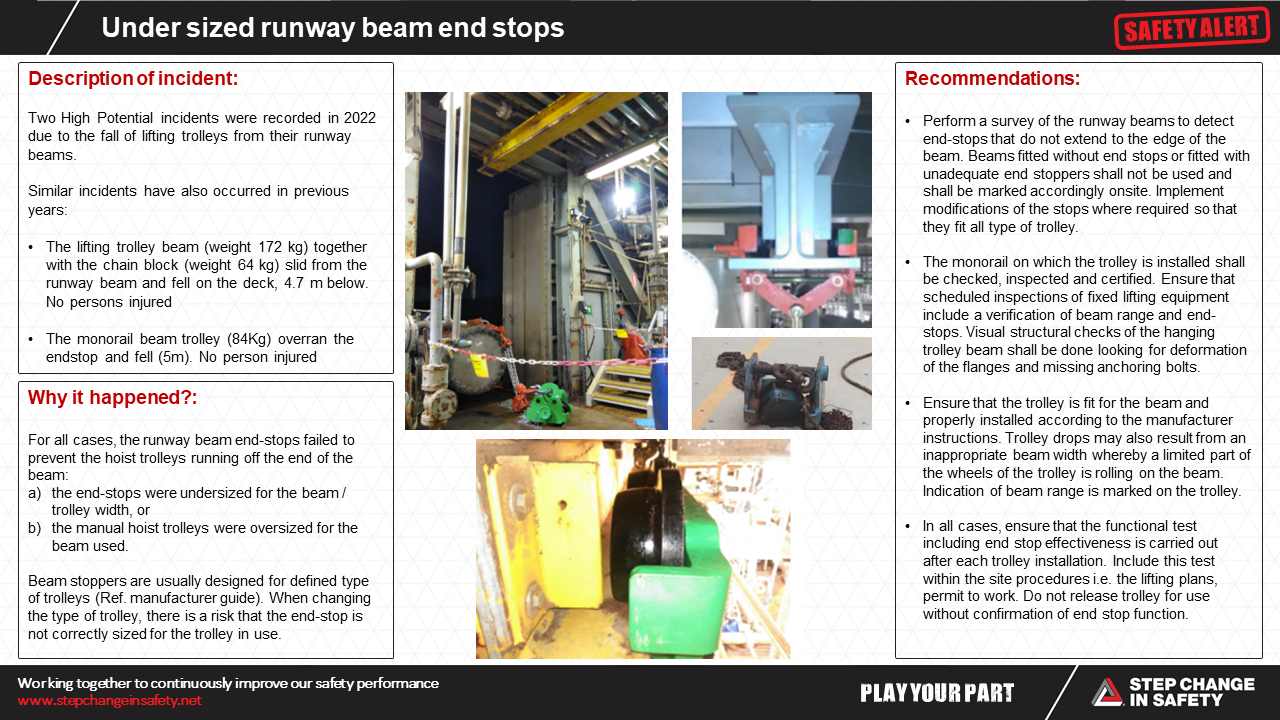 Description of Incident
Two High Potential incidents were recorded in 2022 due to the fall of lifting trolleys from their runway beams.
Similar incidents have also occurred in previous years:
The lifting trolley beam (weight 172 kg) together with the chain block (weight 64 kg) slid from the runway beam and fell on the deck, 4.7 m below. No persons injured.
The monorail beam trolley (84Kg) overran the endstop and fell (5m). No person injured.
Why it happened?:
For all cases, the runway beam end-stops failed to prevent the hoist trolleys running off the end of the beam:
a) the end-stops were undersized for the beam / trolley width, or
b) the manual hoist trolleys were oversized for the beam used.
Beam stoppers are usually designed for defined type of trolleys (Ref. manufacturer guide). When changing the type of trolley, there is a risk that the end-stop is not correctly sized for the trolley in use.
Good Practice Guidance
Perform a survey of the runway beams to detect end-stops that do not extend to the edge of the beam. Beams fitted without end stops or fitted with unadequate end stoppers shall not be used and shall be marked accordingly onsite. Implement modifications of the stops where required so that they fit all type of trolley.
The monorail on which the trolley is installed shall be checked, inspected and certified. Ensure that scheduled inspections of fixed lifting equipment include a verification of beam range and end-stops. Visual structural checks of the hanging trolley beam shall be done looking for deformation of the flanges and missing anchoring bolts.
Ensure that the trolley is fit for the beam and properly installed according to the manufacturer instructions. Trolley drops may also result from an inappropriate beam width whereby a limited part of the wheels of the trolley is rolling on the beam. Indication of beam range is marked on the trolley.
In all cases, ensure that the functional test including end stop effectiveness is carried out after each trolley installation. Include this test within the site procedures i.e. the lifting plans, permit to work. Do not release trolley for use without confirmation of end stop function.
Rate this alert
Average Rating
Latest Alerts & Moments
Our searchable catalogue of hundreds of Safety Alerts and Safety Moments are all designed as learning resources that can help improve workplace safety.