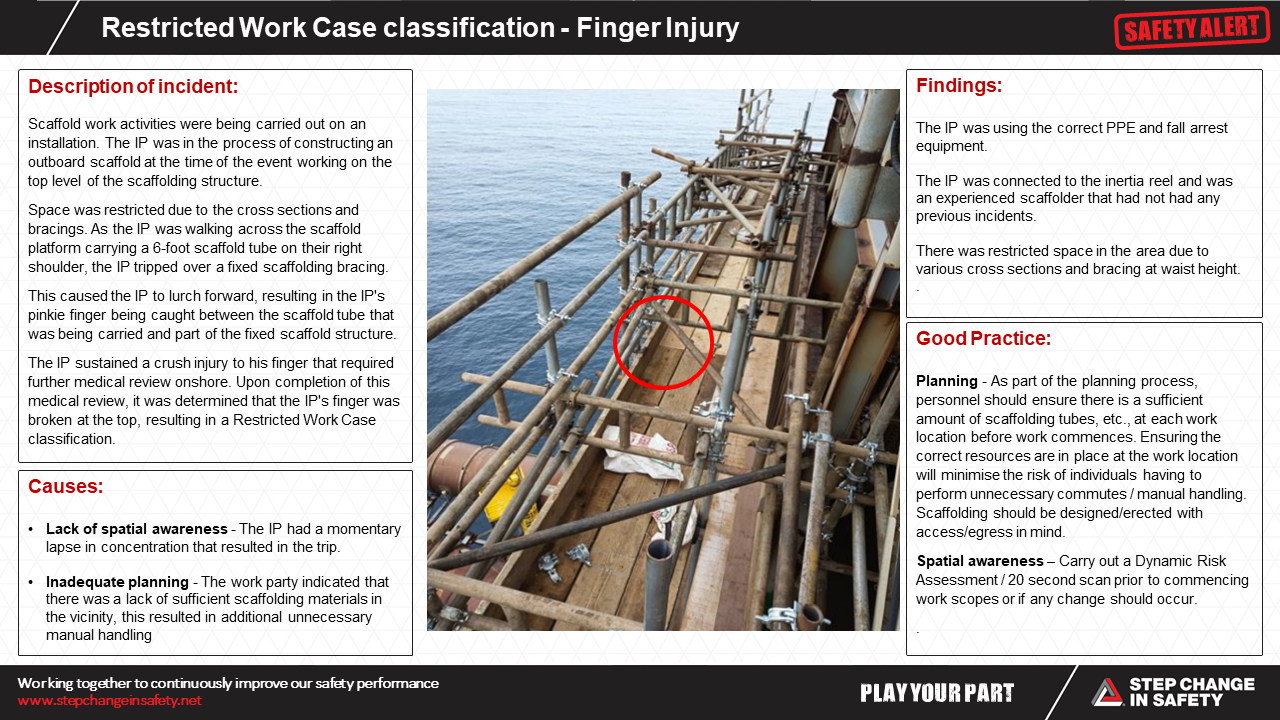 Description of Incident
Scaffold work activities were being carried out on an installation. The IP was in the process of constructing an outboard scaffold at the time of the event working on the top level of the scaffolding structure.
Space was restricted due to the cross sections and bracings. As the IP was walking across the scaffold platform carrying a 6-foot scaffold tube on their right shoulder, the IP tripped over a fixed scaffolding bracing.
This caused the IP to lurch forward, resulting in the IP's pinkie finger being caught between the scaffold tube that was being carried and part of the fixed scaffold structure.
The IP sustained a crush injury to his finger that required further medical review onshore. Upon completion of this medical review, it was determined that the IP's finger was broken at the top, resulting in a Restricted Work Case classification.
Causes:
Lack of spatial awareness - The IP had a momentary lapse in concentration that resulted in the trip.
Inadequate planning - The work party indicated that there was a lack of sufficient scaffolding materials in the vicinity, this resulted in additional unnecessary manual handling
Findings:
The IP was using the correct PPE and fall arrest equipment.
The IP was connected to the inertia reel and was an experienced scaffolder that had not had any previous incidents.
There was restricted space in the area due to various cross sections and bracing at waist height.
Good Practice Guidance
Planning - As part of the planning process, personnel should ensure there is a sufficient amount of scaffolding tubes, etc., at each work location before work commences. Ensuring the correct resources are in place at the work location will minimise the risk of individuals having to perform unnecessary commutes / manual handling. Scaffolding should be designed/erected with access/egress in mind.
Spatial awareness – Carry out a Dynamic Risk Assessment / 20 second scan prior to commencing work scopes or if any change should occur.
Rate this alert
Average Rating
Latest Alerts & Moments
Our searchable catalogue of hundreds of Safety Alerts and Safety Moments are all designed as learning resources that can help improve workplace safety.